All right my dears. Since nothing is going on in here, I shall adopt this community for my own personal uses. Do you guys remember my last post about the community
academy_elite? If not, go here to refresh your memory.

I am an AA (Academy Assistant) in that community, meaning I am one of four AA's who run the Trivia/Graphic/Essay/ETC contests. Every member must have a sig tag (Signature Tag) to put at the end of each post. I made a bunch and now I can't decide which to use. Will you guys help me out? Just comment telling which one(s) you like the best. Thanks so much!


If you do not see a difference between any two styles, it is probably a difference in font size/placement or the size of the banner itself.
1.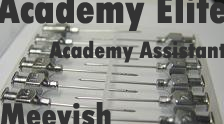 2.


3.


4.


5.


6.


7.


8.


9.



If you wish to see different sizes/colors/fonts of text, comment. If you have an idea that I don't have here, please advise. I'm very appreciative of any help you guys can offer! Thanks!